glTail – Visual Log Analyzer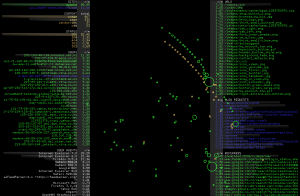 glTail is another visual log viewer.  It can in real time (like logstalgia) show you traffic to your site.  glTail does a lot more analytical work before showing you the motion.
glTail will show you and track things like
Requests per minute from ips
HTTP response codes per minute (how many 404's)
How many hits from googlebot per minute
What your slowest requests are
User Agents per minute
Which URLs are being hit and how often
Works with all sorts of logs:
Apache logs
Apache Combined
Rails
IIS
Postfix/spamd/clamd
Nginx
Squid
PostgreSQL
PureFTPD
MySQL
TShark
qmail/vmpop3d
This is all great stuff to be able to see what is going on in your site, in REAL TIME.  I suggest you use this tool and have a look at how your traffic flows.  You will get a lot out of it, I promise.